28/07/11 14:15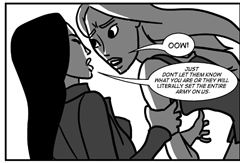 Six pages this week. Read on from last week
here.
Looks like a storm's a comin'.
These pages took a long time, and in the end I didn't get to sketch the next section, that means this weeks voting incentive is just a thumbnail, rather than a nice drawing. Sorry about that, but Im sure you prefer real pages to sketches anyway!
If any of you read
Evil Diva
, (which is really good, by the way) you'll know how they have run out of money to continue until they find a way to support the comic. It's sad but it's a good reminder of the fact that these webcomics take a ridiculous amount of effort on the part of the creators. (At least 4 hours per page for me.) While I'm not insane enough to imagine that it will make me any money, I really would appreciate anything you can do in spreading the word about this comic, either by sharing it on whatever social network you use, or just by being sure to vote on Top Webcomics every week.
Thanks a bunch!
Oh and if you have the time to comment then please do; on the pages themseves or here. I love to hear people's thoughts on the comic, whatever they may be.
Till next week.
Toby