25/02/11 19:41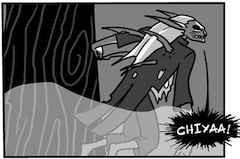 This week's update is a measly one page. I had been working on a decent sized batch, but then everything that could go wong did, form illnesses to horrible work destroying crashes.
Next week will bring more, and I'm going to keep the updates down to 1-4 pages for a couple of weeks so I can build a bit of a buffer.
The cool thing I suppose about this page is seeing what it looks like for Eden when she is invisible.
17/02/11 21:35 Filed in:
comic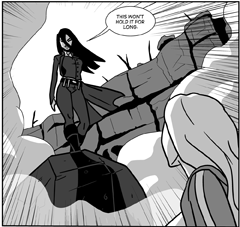 Another update, seven pages this time.
What happens to Eden next?
Let's go see!
I decided to change the way I put images on this update page, instead of putting an image of the last page from the previous update, I'm going to be putting one panel from the new part instead. It worked really well on the first ever entry on November 29th and well, I think it's just more exciting that way. So there you go!
Otherworld is now rank 221 at topwebcomics.com thanks to you all!
See you next week, when we shall resolve this weeks cliff hanger!
11/02/11 13:19 Filed in:
comic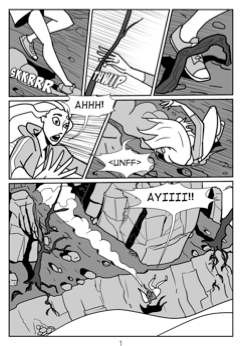 Hello!
Two great bits of news this week.
The first is that Chapter two has begun with 9 new pages! Lets find out a bit about Eden shall we?
The second is that thanks to all you readers Otherwrold climbed from below rank 1000 on Top Web Comics to ~ 250 in less than a week!
Again I'd like to express my thanks for all the votes, the higher Otherworld goes up on that site, the more people are likely to check it out, and this comic can't be a success without readers.
So big hugs to you. And another if you go vote for it again each time you read a new bunch of pages....
In other news, I had to update the site layout a bit. I discovered that there were actually two versions of each chapter due to the weird way that a plugin was acting in Rapid weaver. Since I'm not yet ready to upgrade to word press, I have moved stuff around, but the upshot is that half of the comments were on one copy of the comic and half were on the other. Sadly this means some comments probably have been lost, but hopefully I won't have that problem going forward.
Feedback welcome and looked forward to as usual.
Thanks and see you next week.