Chapter 2
11/02/11 13:19 Filed in:
comic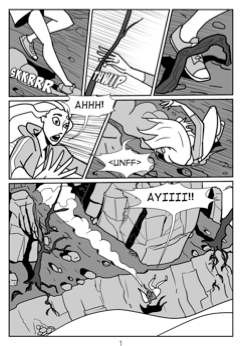 Hello!
Two great bits of news this week.
The first is that Chapter two has begun with 9 new pages! Lets find out a bit about Eden shall we?
The second is that thanks to all you readers Otherwrold climbed from below rank 1000 on Top Web Comics to ~ 250 in less than a week!
Again I'd like to express my thanks for all the votes, the higher Otherworld goes up on that site, the more people are likely to check it out, and this comic can't be a success without readers.
So big hugs to you. And another if you go vote for it again each time you read a new bunch of pages....
In other news, I had to update the site layout a bit. I discovered that there were actually two versions of each chapter due to the weird way that a plugin was acting in Rapid weaver. Since I'm not yet ready to upgrade to word press, I have moved stuff around, but the upshot is that half of the comments were on one copy of the comic and half were on the other. Sadly this means some comments probably have been lost, but hopefully I won't have that problem going forward.
Feedback welcome and looked forward to as usual.
Thanks and see you next week.