16/11/10 00:10
Alright!
I decided that updating last thing at night PST on Tuesdays isn't really a Tuesday update almost the whole world. Sooo, I'm going to post updates at or around 12am Tuesday mornings from now on.
This week, meet Eden McCrea.
By day Eden is an IT student at Wakefield college but in the evenings, she and her two best friends visit the city's abandoned places and prcatice witchcraft. A week ago Eden discovered that she can manifest convincing illusions whenever she is in one specific building. What the friends don't know is that they have stumbled across a secret that The Order has been supressing for almost five hundred years. One that they will kill to protect.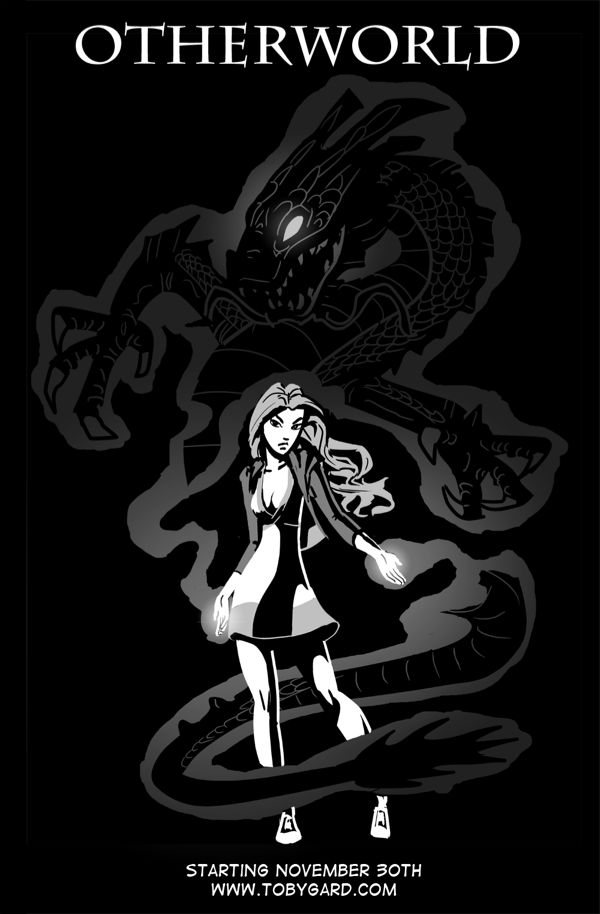 Just one more update to go before launch day and that will probably be a bunch of concept sketches.
I hope you come back to check it out next week! As usual, if it looks sweet or hot, tell your friends.
09/11/10 21:24
Otherworld is a manga-style, twice weekly, long-form web comic based on celtic myth.
It follows the lives of two English girls, thrown together by circumstances beyond their control who find themselves trapped in a brutal parallel world inhabited by mythical creatures and powerful, treacherous beings.
This week, meet 17 year old Katlyn Liu.
Katlyn was raised by the very man who killed her mother and father when she was just five years old. Under his brutal training regime, within an occult organization, Katlyn is about to beecome the youngest full Knight of the Order in over six hundred years. But before that, she must face a test that will threaten to overturn twelve years of planning and change her life forever.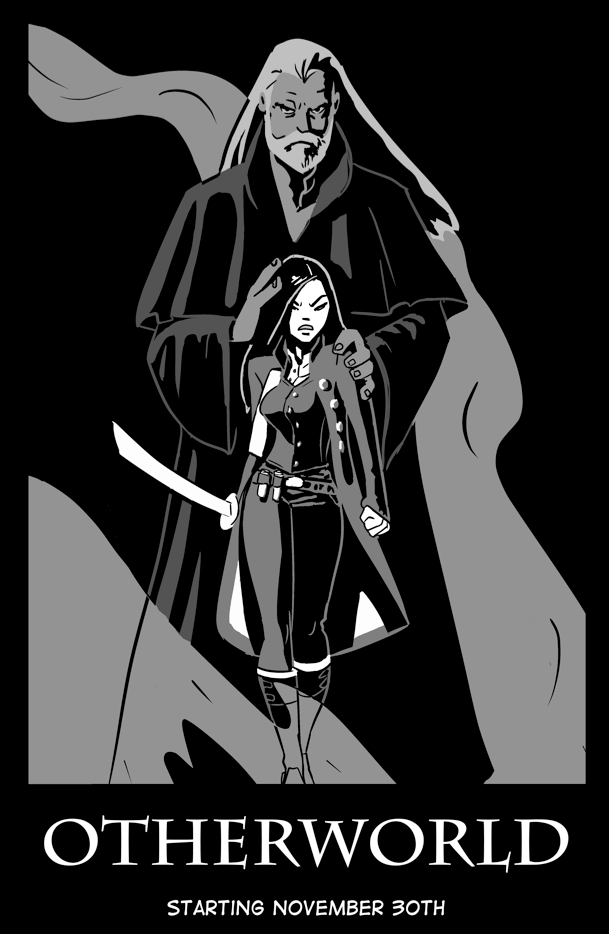 The comic is based on a book that I wrote a year ago but that I never published. I'd love to make a game or a movie out of this idea, since I've been obsessing over it for years, but without a spare hundred million dollars that seems unlikely. So while the comic format is not my first choice of medium to release this, (mainly because my art is a bit embarrassingly rusty, apologies in advance) it is going to be fun writing and drawing the whole thing. It just might take a while to get through it all.
Comics manage to entirely circumvent the ratings system, but I warn you that this story is not for children. It is likely to include: extreme violence, gore, partial nudity, sexual situations, drug references, strong language, gay and lesbian themes, and pretty much anything else necessary to tell the story without compromise. By Uk ratings standards it's probably a 15 rather than an 18, though.
So if you like action packed, morally ambiguous modern fantasy, where myths are woven together with conspiracy theories, then Otherworld might be right up your street.
So tell your friends, 30th November I hope to drop the first 15-20 pages or so.
I look forward to your comments and I hope to see you again next Tuesday!
Toby
Eden McCrea never expected anything bad to happen when she and her friends decided to explore an abandoned cinema, but when they stumble on a five hundred year old conspiracy of astonishing proportions she finds that not only is her own world far more dangerous than she'd ever imagined but that there even worse ones out there.

Otherworld follows the adventures of two very different girls as they peel back the fabrications that have hidden the facts behind the folk tales of the British Isles and beyond. It is a modern day Urban Fantasy drawing on the celtic myths of the Tuatha de Danann and the mystery of conspiracy theory adventure stories.

Otherworld is updated once a week, on or before Friday with several new pages. Get updates so you can read new pages as soon as they are up with the RSS button on the bottom of the sidebar to the right, or by liking the Otherworld Comic page on facebook.

If you enjoy this comic, tell your friends about it.

Thanks.