27/05/12 22:53
Looks like I'm not going to be able to update until next weekend at the earliest.

This week and next week (and holy shit, with E3 the week after) my evenings have / will be wiped out by another project I'm working on.

My appologies! I assure you I'll update as soon as I can. I want to see the finish of this face off as much as you.

Meanwhile, last weeks page was really bothering me so I added Katlyn's feet. Don't know why they weren't there in the first place.

16/05/12 23:14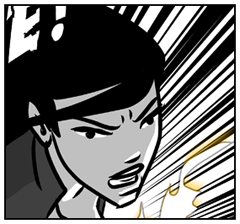 Ey-Up me muckers! New page. Read on from last week
here.
Missed last week's update. I should really post anyway to let people know when myschedule doesn't permit an update. So sorry about that, I'll definitely post next time I can't squeeze one in.
No Diablo for me again tonight. Ah well.
Should I play a Monk or a wizard?