Measly
25/02/11 19:41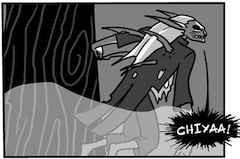 This week's update is a measly one page. I had been working on a decent sized batch, but then everything that could go wong did, form illnesses to horrible work destroying crashes.
Next week will bring more, and I'm going to keep the updates down to 1-4 pages for a couple of weeks so I can build a bit of a buffer.
The cool thing I suppose about this page is seeing what it looks like for Eden when she is invisible.