Chapter 3 Pages 26-32
19/07/11 21:12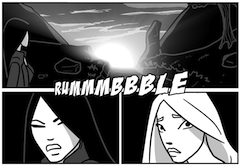 A bumper week this week, with 7 pages of goodness. Read on from the end of last week
here.
Too much coolness this week. We meet the first uncorrupted inhabitants of the Otherworld and I do believe the cover of chapter 3 is sitting in one of those panels. I'll let you guess which one! :)
This week Chloe C, the author of the
Go Get a Roomie
webcomic, sent in the very first Otherworld Fan Art, which you can see
here
or by hitting the new Fan Art tab on the top menu. Thanks Chloe!
I personally think it's really cool to see another artist's take on the Otherworld characters, and I think I want to see more! So if you feel in an artistic mood and want to send me something Otherworld-y, then email me on the link at the bottom of the page.
Meanwhile in my quest for webcomic domination, fantastically, Otherworld briefly popped up to 39th place at Top Web comics this week! It's down to 40 again as I write this, but I'm still really happy, so thanks for all the votes.
I burned through the pages this week because Katlyn and Eden have been alone for far too long. We know enough about them and their relationship now.
Time to bring in the rest of the cast.
Till next week!