Chapter 3 Page 104
14/10/12 21:33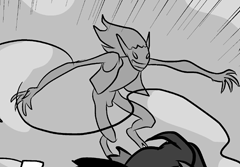 Read on from last week
here.
Better late than never, I say! I guess Last week's evening activities took more time than I expected. (Plus Dishonored came out. OOps.)
All the comments are back. Thanks Disqus!!!
I"m glad we are out of the corruption again. Foggy is not fun in this style, but there you are.
I will be aiming for another update this week.
See you then.
Oh, By the way, in case you missed it, here's a YouTube link to the project I'm Game Directing:
Yaiba, Ninja Gaiden Z
.