Chapter 3 Page 97
08/06/12 00:17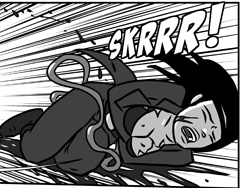 YAY! Read on from fortnight ago
here.
If you're anything like me, you must be resenting me for making you wait for 2 weeks for a page. But you can't hate me today, becasue it's my birthday! and I'm 40, so resent me tomorrow instead.
Meantime, it looks like this battle is reaching it's end. Finally!
Next week. Aftermath.