35-44
12/01/11 22:30 Filed in:
comic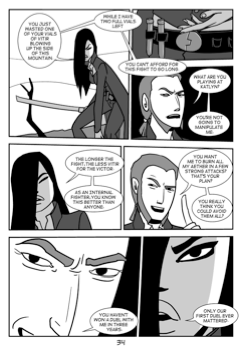 Happy New Year!
I got really ill over the holidays, went to the doctor and aparently, I got a sinus infection and bronchitis. Which is a bit much if you ask me. Anyway, it meant that I couldn't work some of last week so by the end of the week, I still did not have a complete chunk of comic to put up here.
Consequently, today's drop is a relatively big one. Nine new pages.
What is the beef between Katlyn and Bryce? Read on to begin to uncover the reasons for their animosity.
In other news, of course here is the new website. It looks much the same, just a bit better formatted. You will also note that I have enabled comments on the comic pages themselves (hopefully.) Feel free to write on them if you are so moved.
As usual, thanks for reading, and see you next week.
Toby