Chapter 3 Page 74
10/11/11 00:19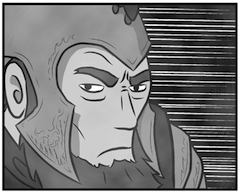 Hello! Read on from the last page
here
.
Another singe pager. I really wanted to get he next one done, which answers the question that this page brings up, but I'm afraid we'll have to wait until next week for that.
Meanwhile, in the real world, I did an illustration for Tomb Raider's 15th anniversary a few weeks ago and it went live since the last update. If you are interested you can see it on my deviant art page
here
.
It was the least popular image of the series, if you go by facebook likes, but I'm pretty pleased with the response considering. Coral painter is a nightmare, by the way.