Chapter 3 Pages 11-14
21/06/11 20:52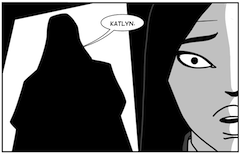 The Return of the King!
Four pages this week. It's time to blow down the doors on this one. Continue reading from last week
here.
Been so excited to get this stuff out, to let Eden's powers out he bag, that I've been burning the midnight oil. By christ I'm tired though.
As I write this, Otherworld is at rank 83 on Top Web Comics. Being in the top 100 is just wicked cool.
I'm facinated to see where it eventually plateaus. There are some incredibly good webcomics above us, like Turbo Defiant Kimecan, The End and Gunnerkrigg Court. To name but a few.
Also, I had time to fix some Effects continuity errors in Chapter 1 (on pages 13 and 15 I think) as the animating banner above shows.