Chapter 3 Page 103
04/10/12 21:47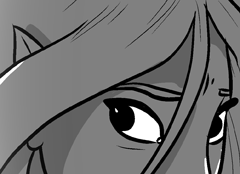 HIYA! Read on from last week
here.
Really simple page this week. Seems like a con almost. Sorry but it's setup. Tell you what, if you want to know what next week holds in store, and can't wait, you could vote on Top Web Comics.
It's a spoiler though. Up to you.
Tell you what, it's good to draw Eden again. Missed her.
Next week I have work commitments during the evenings, but I should still be able to update. If not Thursday, then Friday for definite.
On the comment front, Disqus contacted me and said the import failed because of an error on their part, and that they were queuing it again. Still no joy yet, but they are at least trying.
Toodles!