Chapter 2 Pages 18-20
04/03/11 13:46 Filed in:
comic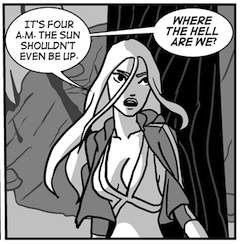 This week we get a few answers, but also more questions. Read on from last week
here.
I got rid of the crappy google ads on the bottom of the comic pages and put a project wonderful box in there. Hopefully that will mean that you might actually see a link in there to something that would actually interest you.
Meanwhile Otherworld has slipped down at Top Webcomics, if you have a few secs, click the link and vote after reading.
Thanks and see you next week.