Chapter 3 Pages 54-58
24/08/11 09:49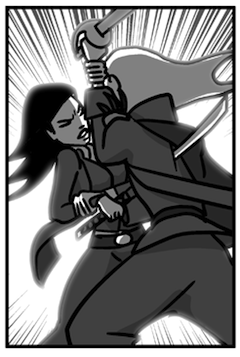 Five new pages this week. Continue from last week
here
.
Things are heating up fo Katlyn, literally. Let's see how Katlyn's gambit plays out against Captain Crevan. Also, what happend to Eden? Read on to find out.
Last week we hit a few milestones for the site, we had our first day when visits topped 1000 in one day and our monthly pageviews broke 900k. That's fantastic, given that when i launched this site in December last year, i was getting about 200 visits a month! We are still a longway away from the traffic that the big Webcomics get, Eerie Cuties gets about 10x the daily trafffic, and something like Gunnerkrigg Court gets about double that. So there's a long way to go, but I'll keep putting out the story and hope that you guys can help me spread the word!
Also, if you are in the mood to draw, send in some fan art. I'd love to see your interpretation of the characters and you'll get to see your art on the website. It's win / win!
Meanwhile, Otherworld got another review last week at Threat or Menace. If you are interested in seeing what other people have to say about the comic, go check it out
here
: