Chapter 3 Page 102
28/09/12 20:55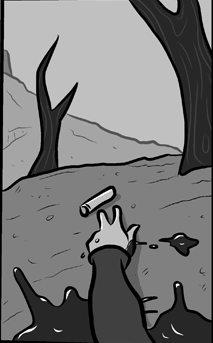 Read on from last week
here.
I tried really hard to get this out Thursday, up till 2am last night working on the page (we were in last week of the month semi crunch time on Yaiba NGZ!!) I actually got the page finished last night but was too tired to do the website update, so without further ado.. Here it is.
This page ended up being a lot more work than I'd hoped, but Im pretty pleased with it. Better than the last few pages.
This is the week Katlyn's fortunes change, but for the better?
Next week we will see something new-er. Looking forward to it. I feel like this particular scnee has been as much of a trial for me as it has been for Katlyn. Fuck me, she's a fighter though.
We all got to be, I suppose.
Till next week. Here's hoping the comment fiasco is sorted by then.

Eden McCrea never expected anything bad to happen when she and her friends decided to explore an abandoned cinema, but when they stumble on a five hundred year old conspiracy of astonishing proportions she finds that not only is her own world far more dangerous than she'd ever imagined but that there even worse ones out there.

Otherworld follows the adventures of two very different girls as they peel back the fabrications that have hidden the facts behind the folk tales of the British Isles and beyond. It is a modern day Urban Fantasy drawing on the celtic myths of the Tuatha de Danann and the mystery of conspiracy theory adventure stories.

Otherworld is updated once a week, on or before Friday with several new pages. Get updates so you can read new pages as soon as they are up with the RSS button on the bottom of the sidebar to the right, or by liking the Otherworld Comic page on facebook.