Chapter 3 Page 73
03/11/11 23:06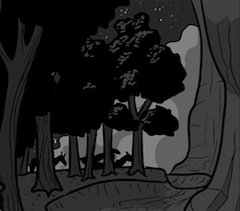 Hello!!! Back again with just one wee one. Read on from last week
here
.
Managed to pencil up several pages this week, but only finished one. Sorry again!
Next week we will glimpse another type of Otherworld denzine. Probably the most important (definitely one of the most powerful) in the whole story. In two pages time we will learn all about them.
Sadly, I doubt I'll get two pages done next week. But I'll still try.