Chapter 2 Pages 38-39
14/04/11 18:00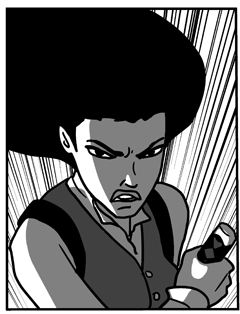 Only two pages this week, and no dialogue, so it's going to take you about 5 seconds to read.
I was planning 5 pages but I simply didn't get to finish them, too busy. Which is good right? If I have time to upload nine pages it means there's no paying work about :)
Read on from the last page
here
.
Aaannyway. The big question this week is: Will Katlyn kick Eden's arse?
Personally I would not antagonize Katlyn if I ever met her.
Meanwhile, Otherworld has gone up to rank 249 on Top Web Comics, so thanks to everyone who is voting for it!
Also we are two 'likes' away from 100 on Facebook and while that's hardly a big deal, it is a milestone. So if you do like it, hit that thumb button on the right and join our facebook gang!
As always thanks for dropping by, and I really wish I could be doing this full time, because there's so much cool stuff coming and I really want to get to it.
'Till next week!