Chapter 3 Pages 48-53
14/08/11 20:54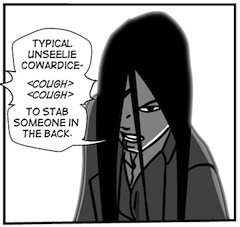 Six new pages. Continue from last week
here
.
I got these puppies finished by he end of Sunday because I was really into them. Despite having them ready so early, they actually took quiet a lot of time, all the more shame that you will most likely read them in about 10 seconds.
My recommendation is to savour them and let the meaning of each panel sink in before moving to the next, if you have the patience! Tough thing to do, when there is so little dialogue but it's hard to represent correct pacing without masses of filler panels. Whatever, I love action scenes and hopefully this week held a few surprises.
Meanwhile in the real world, at the time of writing, Otherworld is up at No.36 on Top Web Comics, which is really good given there's still 18 days till the end of the month. Looking at the readership statistics, it looks like the visits have more than doubled in the last month, which is fantastic!
Welcome all you new people!
Keep spreading the word. This puppy is only going to keep getting better, I promise.
I only wish I could go faster. Having said that, I know the next two months will be busy for me, so I probably won't be able to keep up the pace of 6 pages a week through September. But I'll do my best!
'Till next week.